Vie Ferrate Kleinarl
Against a breathtaking mountain backdrop, Kleinarl offers you three "Vie ferrate" (fixed-rope routes) experiences and a terrain trek. Ranging from a family "Via Ferrata" A/B (easy) to a fixed-rope route B/C (medium) through the Kesselfall gorge up to the fixed-rope route C/D (difficult), which is hard to beat when it comes to altitude and attractiveness.
Attractions at a glance:
beginner/family via ferrata suitable for rookies
short access
attractive via ferrata through the Kesselfall gorge
vie ferrate combineable as a round course

Download Topo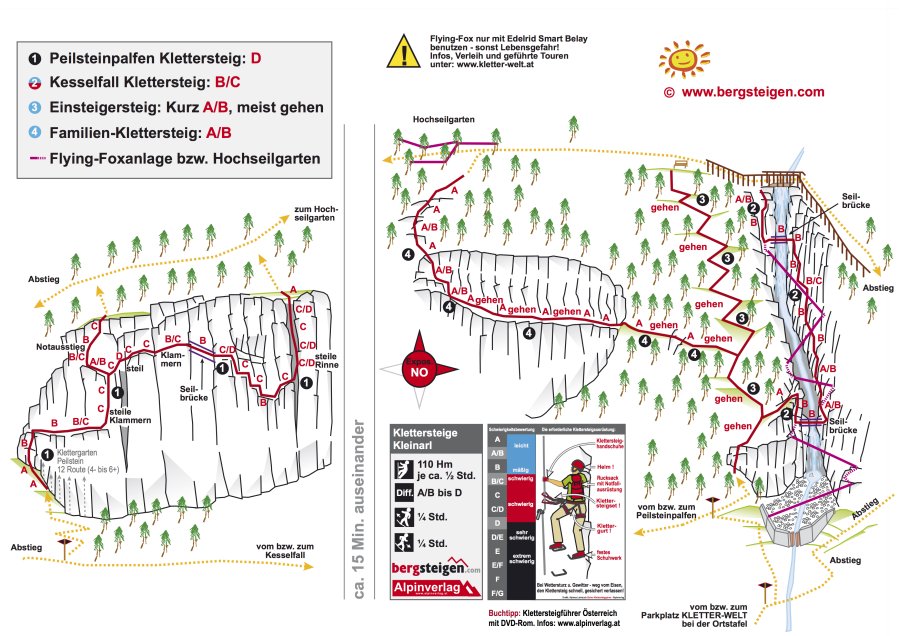 Price
Rental half day
Rental full day
Via Ferrata Combination
(helmet, harness, Via Ferrata Set)
Euro 20,-
Euro 25,-

Via Ferrata-Guide per hour

up to a maximum of eight participants

Euro 72,-

For groups of 10 people and more, a guided tour is available outside the opening times.
With your payment of the rental price, you accept the general business conditions of KLETTER-WELT GmbH.
The kletter-welt offers equipment rental and guided tours through the Kesselfall Flying Fox via ferrata. The Flying Fox via ferrata Kesselfall is a vie ferrate with alpine risks and therefore we recommend that you must only use it with the right equipment. The Kleinarl via ferrata are only advertised on this page. Liability outside of guided tours concerns the builder and maintainer of the Kleinarl via ferrata.